On June 21 we invite our guests to join us as we celebrate National Aboriginal Day at Trout Lake with a community-based, full day of events set to showcase and celebrate the diversity of Indigenous people across Canada.
Water lovers join First Nations, Métis, and Inuit people to share their spirit, experiences, stories, songs, art and dance with each other and the general community – with a whole day of entertainment, activities, and fun planned for the whole family.
What is National Aboriginal Day?
June 21st is National Aboriginal Day, a day for all Canadians to celebrate the cultures and contributions to Canada of the First Nations, Métis and Inuit people.
Setting aside a day for Aboriginal Peoples is part of the wider recognition of Aboriginal Peoples' important place within the fabric of Canada and their ongoing contributions as First Peoples. As former Governor General Adrienne Clarkson said, "It is an opportunity for all of us to celebrate our respect and admiration for First Nations, for Inuit, for Métis — for the past, the present and the future. "
8:30 – 10:30 a.m. Doors Open for the National Indigenous Day Pancake Breakfast
9:00 a.m.    Territorial Welcome by Elder Bob Baker, Squamish Nation
9:00 – 9:20  Welcome from Gregor Robertson, City of Vancouver, MPs, MLAs
10:00 a.m.    Kwhili Gibaygum Nisga's Dance Group
10:40 a.m.  Gather for the Friendship Walk at Vancouver Aboriginal Friendship Centre Society, 1607 East Hastings, Vancouver
11:00 a.m.  Friendship Walk Departing from VAFCS to Trout Lake
The celebrations at Trout Lake will include singers, dancers, speakers, a Pow Wow, and food vendors from noon – 5:00 p.m.
History of National Aboriginal Day
National Aboriginal Day was proclaimed in 1996, by former Governor General Roméo A. LeBlanc. Today National Aboriginal Day is part of the annual nation-wide Celebrate Canada events: a four-day celebration that begins with National Aboriginal Day, continues with St-Jean-Baptiste Day, Canadian Multiculturalism Day, and then concludes with Canada Day.
For information about this event, please visit: http://www.bcnationalindigenousday.com
Getting to the event
Morning activities kick off from the Vancouver Aboriginal Friendship Centre Society, 1607 East Hastings, Vancouver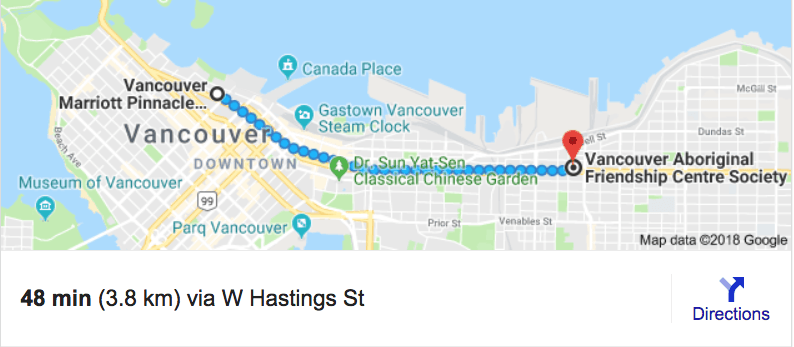 From the Pinnacle Marriot Hotel, 1128 W Hastings St, Vancouver, to Trout Lake: walk to Burrard Station and take theExpo Line to King Georgeto Commercial – Broadway Station. Walk six minutes to the John Hendry Park Booth, 3300 Victoria Dr, Vancouver.
*The organizers of the Canadian Water Summit would like to formally acknowledge the our event will be hosted on the unceded territory of the Musqueam, Squamish and Tsleil-Waututh First Nations.*