Above: L-R: Conor Wylie, Lisa Baran, Anais West, Sophia Wolfe, a rehearsal shot of SLIME, by Bryony Lavery, produced by The Only Animal. Photo by Lisa Goebel.
Art is a powerful engagement tool. 
That's why we are thrilled to present the World Premier matinee performance of SLIME—a witty new production by Tony-nominated playwright, Bryony Lavery.
Directed by CWS artist-in-residence, Kendra Fanconi, SLIME takes place at a climate change conference where marine animals are active participants. Set in the near-future where students act as animal interpreters, this production aims to make you laugh and feel inspired.
Come hear what the polar bear has to say!
Commissioned by the Banff Centre, SLIME brings its audiences face to face with the greatest threat to life on earth—an insatiable creature that is taking over seas called SLIME.
SLIME moves with viral force, gobbling up all available resources. Humans enabled it, but nothing can stop it. This conference is the last hope for salvation of all life forms. Except for SLIME.
SLIME  will be presented by The Only Animal theatre company.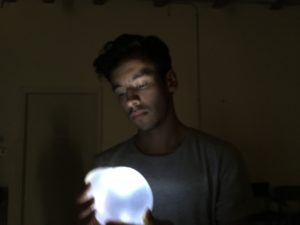 The Only Animal's Kendra Fanconi said, "I first met SLIME at the Playwright's Lab in Banff as they were short an actor and I stepped in. At that point SLIME was only half-done, but I fell in love and every few months would write to Bryony and Ruth and ask if I could program if the Canadian rights became available. As Bryony's work premieres at British Theatre institutions like the National in London, I knew was just a matter of time. Eventually, a need came up to bring designers in to experiment and the process of design-based dramaturgy is second-nature to The Only Animal. We became development partners, and with ongoing support through 5 years with the Banff Centre, a play was born. When they offered us the World Premiere of SLIME, we were, as the Brits say, chuffed."
Slime Creative Team:
Directed by Kendra Fanconi (Canadian Water Summit's Artist-In-Residence)
Written by Bryony Lavery
Dramaturgy by Ruth Little
Set, Prop and Puppet Design by Shizuka Kai
Sound Design by Nancy Tam
Lighting Design by William Hales
Animal Sound Librarian by Ira Jordison
Costume Design by April Viczko
Production Management by Colin Cooper
Performed by: Lisa Baran, Pedro Chamale, Teo Saefkow, Anais West, Eddy Van Wyk, Sophia Wolfe, and Mason Temple
Running time: 100 minutes, followed by Q&A with the artists.