ABOUT CWS 2019
Partnering to Innovate in the Blue Economy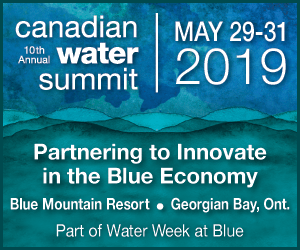 Water Week at Blue offers you the chance to bundle two programs Canadian Water Summit (CWS) and Canadian Water Resources Association (CWRA). Two of the nation's premier water events offer leading expert keynote speakers, conference sessions, technical workshops, industry awards, and many networking opportunities.
CWRA will host it's 72nd national Conference and agm  from May 26 to 29, the 10th annual Canadian Water Summit will follow from May 29 to 31.
Register with us to purchase the Water Week at Blue bundle, or just your attendance to the Canadian Water Summit.
The Canadian Water Summit
at Blue Mountain
What's on Offer?
Join CWRA and CWS for the full Water Week at Blue and turn your trip into a 'work-cation'. Engage in the many outdoor experiences at Blue Mountain to build your team or bring your whole family for your 'work-cation'.