The Canadian Water Summit is thrilled to announce Jill Heinerth as our keynote speaker in 2018!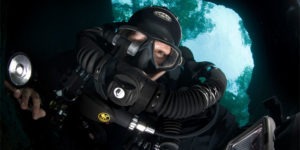 Named the Explorer-in-Residence for the Royal Canadian Geographic Society in 2016, Jill has made more than 7,000 dives in her professional career. Born in Mississauga, Ontario, Jill has conducted dives from Antarctica to Christmas Island.
Jill is a well-known consultant for diving agencies, a photojournalist documenting her explorations, and a globe-trotting speaker. She has produced television series for PBS, National Geographic Channel, and BBC and provided expert advice to film directors, including James Cameron.
Read Jill Heinerth's detailed biography here, and register today to see Jill at CWS in June.
Meet Jill Heinerth, Explorer-in-Residence from Jill Heinerth on Vimeo.