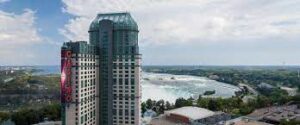 Now in our 13th year, the Canadian Water Summit (CWS) facilitates cooperation, collaboration, and knowledge-sharing among the many diverse groups that make up our Canadian water landscape as we advance our mission to build Canada's 'Blue Economy.'
We cover a range of topics related to drinking water, wastewater, and stormwater at each of our events. During each of our sessions, we have discussions about policies, projects, and innovations in the Canadian water industry and beyond.
Canadian Water Summit in 2022
We're excited to announce that we're hosting the 13th annual Canadian Water Summit in partnership with the Environmental Services Association of Alberta's (ESAA) Remediation Technologies (RemTech) Symposium East.
Register Now for June 1 – June 3, 2022. Be sure to join us at the Fallsview Casino and Resort in Niagara Falls!
More information about the events will be available in the coming months.